Grade 0: 17
Knight of Early Dawn, Coel (Starter)
4x Nappagal Liberator (Heal)
4x Flame of Victory (Critical Trigger)
4x Scarface Lion (Critical Trigger)
2x Gigantech Ringer (Stand Trigger) / Catchgal Liberator
2x Player of the Holy Pipe, Herrie (Stand Trigger)
Grade 1: 14
2x Slaymy
4x Knight of Daybreak Light, Gorbaduk
4x Holy Mage Pryderi
4x Knight of Blooming Sun, Jeffry
Grade 2: 11
2x Holy Mage, Elio
4x Bururugal
3x Knight of Spring Light, Bellinor
2x Knight of Thin Sun, Marcia
Grade 3: 8
4x Knight of Rising Sunshine, Gurguit
2x Divinity Lancer Dragon
2x Dawngal
G-Zone / Grade4 : 16
1x Golden Dragon, Rise Shine Dragon
2x Golden Dragon, Scourge Point Dragon
2x Golden Dragon, Spear Cross Dragon
2x Golden Knight of Incandensence, Ibracus
2x Sunrise Ray Radiant Sword, Gurguit
1x Golden Beast, Sleimy Flare
2x Sacred Prayer Master, Reia
1x Air Element, Seabreeze
1x Dark Element, Dizmel
Sorry about the long wait guys, thank you for being patient with this deck. I've done a lot of play testing in real life with this deck and it was hard to get certain cards.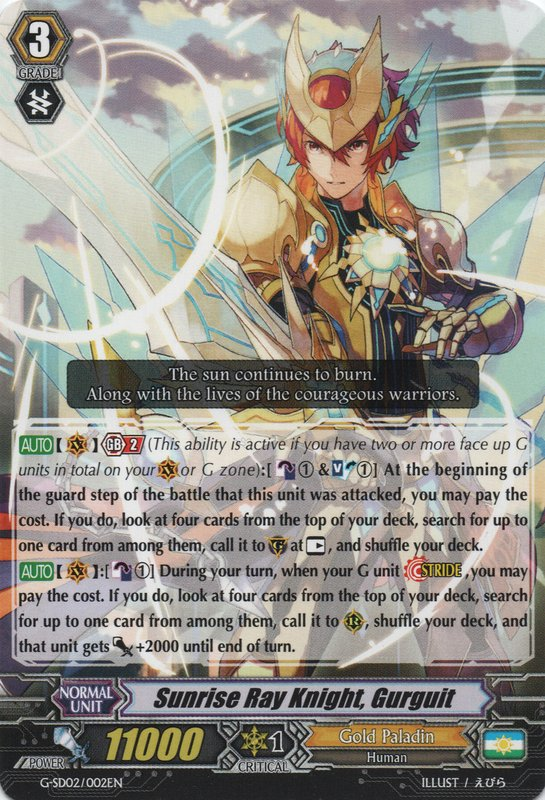 Hello, welcome to Gold Paladin Gurguit's deck profile. Gold Paladin is a versatile clan that superior calls cards from the deck to fill up your formation. It has both offense and defense and can also gain hand advantage very easily. Also because of the new mechanic "unite" you can also gain advantage without striding though the deck works better with striding.
First we have the starters, Knight of Early Morning, Koel, Rising Lionet, and the Little Fighter Cron. The reason why I chose Koel over the other starters is because of the factor of Counter Blasting. The deck requires a lot of counter blasting especially if your facing a clan like Kagero or Narukami which will retire your formation which will require you to use Spear Cross Dragon to fill up your formation again. Though all options are very viable. Though my favorite is still Koel because he chains very well with Unite and setting up for end game / first stride. I'm running four stand triggers because of there effects, eight critical triggers because the clan also needs cards in the soul and also because of there effects and four heal.
For the grade ones we have four Jeffery which has the effect of going into the soul after boosting a unit so that you can draw a card. This will allow you to gain hand advantage even if you guarded a lot. Four stride enablers because of the stride format, four counter charge perfect guard because again, this is a counter blast heavy deck and you don't need quintet wall for this deck. And finally two Sleimy because he allows you to guard from the back row.
Grade two, there were so many options because of how vertasile the clan is, but based on my play testing, the best line up I've determined were four Bururgal, he allows you to hit the magic number and force your opponent to guard more than needed. Three Bellinor, he allows you to superior call another card behind him if needed. Two Marcia because she allows you to counter charge and also has resist. She has 8,000 attacking power but still very useful. And Two Elio, she also allows you to superior call a card on hit, and she goes to the soul. I chose her over Pywll because of the on hit effect allowing you to get another attack in, and because she goes to the soul.
The grade three line up, four Gurguit, he is the boss in the shield and sword. Having the ability to superior call a card from the deck and giving it power on stride. Also allowing you to guard from the deck as well. Two Dawngal because he can boost from the rearguard position, and two divinity lancer dragon because of his unite ability which makes him a 14,000 attack beater.
And the grade four line up. I admit, I had a lot of trouble with this because of how many options there are so this can be changed to however you see fit. I have one Seabreeze, he is for if your opponent decides not to stride when they are grade two, useful for playing against ripple decks. Also you can punish your opponent if they fail at a g-assist. Campbell, he can be taken out but I have one of him because he is an on hit ability and doesn't require a counter blast like Rising Shine Dragon. One rising Shine Dragon because if you stride on him, he enables generation break three on your next stride and allows you to be defensive if your behind for generation break two with Gurguit's skill.
Two Scourge point dragon, he's a promo but a very deadly one. He pumps up any card and himself that was called from the deck allowing for some insane numbers. Easily allowing you to push for your opponent to use up his hand, and forcing out perfect guards. Two Spear Cross Dragon, I have him because of the possible match up against Kagero or Narukami which will basically destroy your whole field. He allows you to fill up your field in no time. And chances are your field will stay on because they usually won't have any more resources to retire them again. Ebraucus because he's a good first stride option if you won't to fill up your field or if you don't know if your opponent has a perfect guard. Two Gurguit, four of them isn't needed, chances are if you stride on to one your pushing for game and have a full field. He's basically a better version of Soul Saver Dragon. One Dizmel, sometimes you don't want to lose certain rearguards, and you can easily guard if they attack your vanguard. This will force them to attack the vanguard for your rearguard will have resist. One Screwy for a bit of extra guard if the attack is too much. One Sleimy Flare, and two Reia for more g-guards.
Hope you like it, Enjoy.