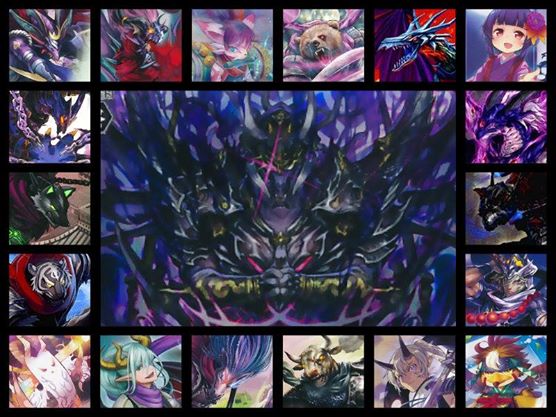 Grade 0: 17
1x
Stealth Rogue of the Wintry Wind, Kamojigusa (SVG)
4x Stealth Dragon, Onibidoshi (stand)
2x Stealth Fiend, Mashiromomen (stand)
4x Stealth Dragon, Noroi (Crit)
2x Killing Method Stealth Rogue, Samidare (Crit)
4x Living Method Stealth Rogue, Shigure (Heal)
Grade 1: 14
4x Stealth Rogue of Veils, Kurenai (PG/Counter Charge)
4x Stealth Beast, Katarigitsune (Stride Enabler)
3x Tempest Stealth Rogue, Fuuki
3x Stealth Dragon, Dreadmaster
Grade 2: 11
4x Stealth Beast, Tamahagane
3x Stealth Rogue of Night Fog, Miyabi
4x Stealth Rogue of Night Fog, Agitomaru
Grade 3: 8
4x Stealth Rogue, Kukikiricongo (Break Ride)
4x Stealth Dragon, Shiranui
/
4x Stealth Dragon, Shiranui
2x Stealth Beast, Hagurejishi
2x Stealth Dragon, Kegareshinmyo
Grade 4 / G-Zone: 16
4x Rikudo Stealth Rogue, Atagolord
2x Rikudo Stealth Dragon, Gedatsurakan
2x Rikudo Stealth Dragon, Tsukumorakan
2x Rikudo Stealth Dragon, Gounrakan
1x Six Realth Stealth Dragon, Jorurirakan
1x Air Element, Sebreeze
1x Dark element, Dizmel
1x Metal Element, Scryew
2x Jinx Stealth Hermit, Abudataishi
What you guy's have been patiently waiting for, a Nubatama Deck profile. Nubatama, a clan that specialize in depleting your opponents hand resources as well as the field. Allowing you to take advantage of any situation given. You have to constantly be on the offense as well as play smart and defensively. And make your opponent think on there feet, one of my favorite clans because of how technical they are.
For the line up I run six stand triggers, six critical trigger, and four heal triggers. I started with twelve critical triggers but the deck works better with stands in it, because of Miyabi's and Agitomaru's effects. And the starter,
Stealth Rogue of the Wintry Wind, Kamojigusa. I run him over the other starter mainly because you'll lack the soul to drop cards from the bind zone consistently and this guy counter charges and this deck can be counter blast heavy.
For the grade one line up, i'm doing old school Nubatama with Fuuki and Dreadmaster. I took out Chiguremo because you don't really have a lot of cards with aftermage that will make the ability worth it. So your better off with Fuuki and Dreadmaster over him. Perhaps in the next set.
Grade two, i'm running Agitomaru because he drops cards from the bind zone after you use Tamahagane's skill. Kokujou and Nikibitabira are also good choices but I couldn't fill them in since the grade two slots are pretty much set and these cards are stables, Tamahagane, Miyabi, and Agitomaru to take advantage of binding cards from hand and field.
Grade three I have two line ups, You can run four Shiranui's and two of
Hagurejishi and Kegareshinmyo. Or you can run the break ride line up which is my favorite personally because late game, there is literally nothing your enemy can do depending on what stride you can use in the situation. Also the break ride allows you to use Jorurirakan who is too good not to use. It's pretty much a free get rid of annoying cards from the field and hand.
G-zone, Obviously run four Agitolord, he's the boss shinobi of the deck, when he attacks you can make the enemy bind a card from the hand and he gets an extra crit if the enemy has three or less cards in hand (which he probably will). I run Gounrakan to get rid of a full field which is useful for that Shadow Paladin, Gold Paladin, Royal Paladin, Neo Nectar, Nova Grappler, Aqua Force, Great Nature and sometimes Link Joker match up. Your enemy chooses two cards to keep on the field and the rest goes to his bind zone. This is on stride meaning you can use his ability before Shiranui's skill.
Tsukumorakan Gets rid of a huge hand again useful for Gold Paladin, Shadow Paladin, Link Joker (who's playing conservative), Neo Nectar, Bermuda, and Great Nature. Or any deck in general that's going to have a huge hand. Gedatsurakan is generally your first stride on Shiranui to force an opponent to PG or give up another card in his hand to the drop zone.